How has inclusion changed your life? Let us know!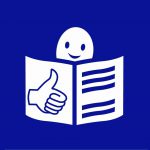 Click on a word which is in bold to read what it means.
Inclusion Europe celebrates its 30th birthday this year.
We want you to celebrate with us!
We would like to create a video.
The video should show what the inclusion movement has achieved
in the last 30 years.
How has inclusion improved your life?
What has changed?
Let us know!
Who can participate?
We invite self-advocates and family members to participate.
How can I participate?
Please send us a short video.
The video should not be longer than 15 seconds.
In the video, please complete the sentence:
"Thanks to inclusion, I …"
(for example, "I now can …", "I now am …", "I now have…")
The video can be filmed with a camera,
but also with a smartphone or other device.
Consent form
Important: Please fill in the consent form and send it to us together with the video.
Otherwise we will not be able to use the video.
Can I speak in my own language in the video?
Yes, please speak in your own language.
But let us know which country you are from.
So we can translate what you said.
How should I send the video and the consent form?
You will not be able to e-mail us the video directly.
The file will be too big.
Because of this, please use the tool WeTransfer.
WeTransfer lets you send bigger files.
On WeTransfer, you need to click "Take me to free".
Then you need to click on "Add your files".
Please add your video and your consent form.
You need to fill in these fields:
"Email to"
Please put trainee@inclusion-europe.org.
"Your email"
Please put your own e-mail address.
Message
Please put "Video campaign", your name and your country as the message.
Then, click on "Transfer".
And we will receive your video!
When is the deadline?
We have extended the deadline.
The new deadline for sending the videos is 11 November 2018.
Share the news!
Do you want to help us? Share the news!
Let others know that we would like to have their videos!
You can post about it on your accounts on social media.
You can use the hashtag #MyInclusionStory.
We are looking forward to getting your videos!
More information
Have a look at our Inclusion Heroes!
We interviewed a number of people for our birthday.