Anna Kwiatkowska from PSONI receives "9 millionth Erasmus+ participant award"
Click here for the easy-to-read version
Anna Kwiatkowska, who has been working for Inclusion Europe's Polish member PSONI for many years, has received the "9 millionth Erasmus+ participant award" representing Poland. The award was handed out at an event in Strasbourg (France) to celebrate the 9 millionth person participating in Erasmus+, and the initiative's 30th anniversary.
As an IT specialist, Anna Kwiatkowska has developed educational tools for people with intellectual disabilities as part of a number of Erasmus+ projects. Together with her colleagues at PSONI, she has built partnerships with therapists and psychologists across Europe to improve people's employability, thus helping them live more fulfilling and meaningful lives. Recently, she helped create a tailor-made computer lab and got to witness how this can help change people's lives.
For her achievements in Erasmus+ projects she managed for PSONI, Anna Kwiatkowska also won in the Adults Education category of the Polish competition "EduInspirator".
Inclusion Europe would like to congratulate Anna Kwiatkowska for all her achievements in the field of adult education for people with intellectual disabilities, and her well-deserved awards. We are happy to be working with her on another Erasmus+ project: Be.Safe!
Our project SafeSurfing, where PSONI was also a partner, trained people with intellectual disabilities on data protection and on safely using the internet.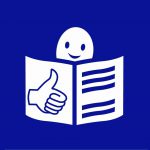 Easy-to-read version
Click on a word which is in bold to read what it means.
Anna gets Erasmus+ participant award
Inclusion Europe has a Polish member called PSONI.
PSONI stands for the Polish Association
for Persons with Intellectual Disability.
Anna Kwiatkowska works for PSONI.
Anna received an award to celebrate
that 9 million people have taken part in Erasmus+.
Erasmus+ is a programme of the European Union.
The programme supports education in Europe.
Anna got the award during an event in Strasbourg.
Strasbourg is a city in France.
Anna works with computers.
She has created tools for people with intellectual disabilities.
She has also looked at ways to help people find work.
Anna won another prize for her work in a Polish competition.
Inclusion Europe wants to let Anna know
that we are happy with her great work.
Inclusion Europe is working with Anna on another Erasmus+ project.
The project is called Be.Safe.
PSONI were also part of the SafeSurfing project.
The SafeSurfing project is all about how to be safe online.